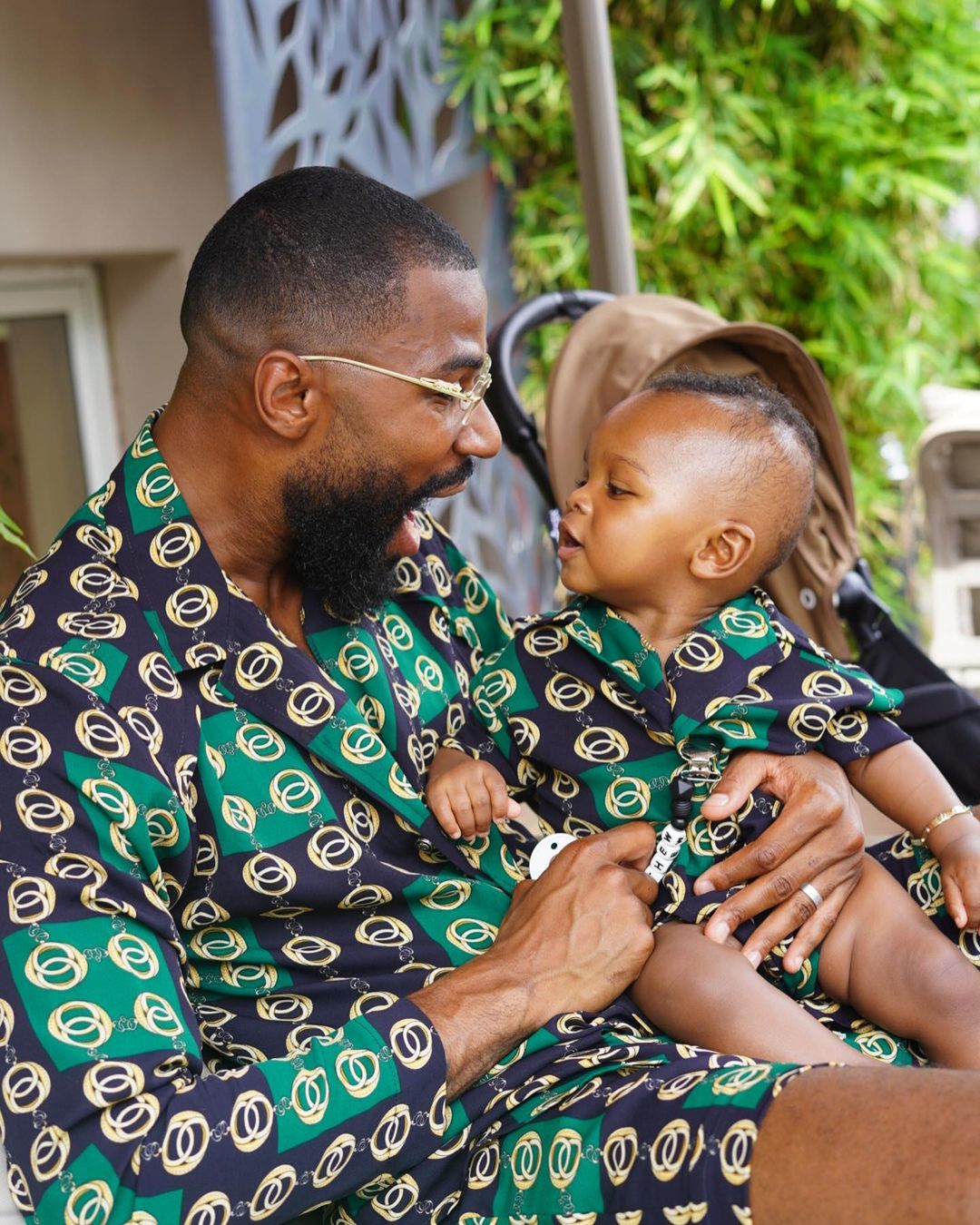 Yay! It's Father's Day today and we're screaming Happy Father's Day to all the amazing fathers — first-time dads, long-time dads, guardians and father figures — out there. We see the wonderful job you're doing. You rock!
Our celebrities also have some very loving words for their incredible dads. From those who wrote to their fathers and husbands to the fathers giving themselves a shout out, we love these Father's Day messages (and adorable photos😍) and we hope you do too.
Falz
Message to my idol ❤️🧔🏾‍♂️🙇🏾‍♂️👨🏾‍🍼
Nicole Asinugo
No relationship is perfect and father-daughter relationships are so complex and often not examined enough but I know the sacrifices this man has made for me and I am thankful for the gift of time. The past few years have been tough but my father has proved he is tougher. This man has survived a war, a kidney transplant and two brain surgeries. It may look like we are just holding hands but the truth is we are holding a miracle. The miracle of life. Happy Father's Day ❤️
Linda Ejiofor-Suleiman
My baby just look at you. Doing this father thing so effortlessly. ☺️❤️👏🏻

I remember when we were still dating and we had the babies conversation and you expressed your concerns about how you were worried you wouldn't be a good dad. I remember all the reassuring I had to do. 😩😓🙄But look at you now, bossing it and even giving other new dads tips!!! 🙌🏻🙌🏻🙌🏻

I'm so proud of the father you're turning out to be. Thank you for always reassuring me that I'm doing good. Thank you for always being present. Reading, researching, asking questions. Thank you for playing your part of sharing the load of caring for, and taking care of him. 🥰😍❤️

You're the best Dad he could ever ask for. He is such a lucky little man for having such a gentleman like you to look up to. You are an amazing example for him to follow and I know he will grow into a man who knows what it means to be a decent human being. We love you, and pray you live to enjoy the fruits of your labour and Love. Amen 🙏

God bless you. And keep you. And continue to grant you grace and favour in Jesus name. HAPPY FIRST FATHER'S DAY MY BABYDADDY @ibrahimsuleimanofficial 🥰😘😍❤️
Lala Akindoju
I always knew you would be a great dad but watching you since we conceived Adéoreòfé has left me in awe.

From being the primary caregiver those first 4 weeks to the night shift and just the way you love and care for him- looks like you have been doing this for more than just 4months. Adeore is especially grateful for your chest.😂😂

I declare that you will grow in this role. You will continue to be a present, loving and supportive father not just to our biological children but to every person who looks up to you. Above all, you will indeed be a perfect representation of God the father. Happy first Father's Day D squared. We love you ❤️
Chef Fregz
Disbelief. In the year that the crescendo of the Panasonic began, In its second month on its nineteenth day, I witnessed the miracle of you. The bewilderment of hearing your beating heart for all those hours, your first sneeze, you and I sleeping next to each other, me swaddling you like an experienced midwife.

The wonder of your calmness, your screech at the perfect times for your food, the beauty and kindness in your eyes, your holding of whoever's finger or shirt that's feeding you, even in your colic discomfort you're so precious to behold. To believe all this is still something that the grasp of my imagination is failing at.

My eyes glisten with saltwater at your toothless smile. Victoria Falls too eventually sometimes. You're just too beautiful. Disbelief, I get to be called father. Disbelief that I have the chance to be better than history.

But my disbelief doesn't blur the clarity of your laugh, your beating heart on your favourite bed… My chest. I get God a little more now. I understand that embrace now. That I've loved you with an everlasting love thing now.

Adebobo, Your crown of grace has created room for other ones to wear their crowns. It will never fall from your head. I have touched more than the hem of the garment of favour. I'm wrapped in ten yards of it.

My gratitude runs over, because you, Adéoerofe Toritseju Chukwuebuka Call me Father
Simi
Happy Daddy's day Daddy Deja. Keep being the good boy that you are 🤎
Toyin Abraham
Oko mi,olowo ori mi,ife mi,Ayo mi,my smallgod,Idunnu mi,Arindunu mi,my backbone,my heartbeat,my joy,my cheerleader,my best friend,Oniduro mi,Okan mi,Baba mi,Omo mi,Aladuroti mi,Egbon mi @kolawoleajeyemi HAPPY FATHER'S to you❤️❤️❤️we love and appreciate all you do for this beautiful huge Family❤️❤️.
@kolawoleajeyemi Oko mi ORI NI E O NI DI IRU lailai🙏🙏🙏
Toolz
Happy Father's Day baby daddy!!! We love and appreciate you loads! ❤
Low key jealous that you're #Chairman's favourite, but watching the growing bond between both of you is one of my favourite things.
May God keep and bless you for us, and may you never frown or scowl on school fees day! 😁
Perri Edwards
HAPPY FIRST FATHERS DAY @aireyys I FIRST-HAND WITNESS THAT YOU DO THE UPMOST TO GIVE OUR SON A HEAD START AND IF YOU COULD YOU'D GIVE HIM THE WORLD. CONTINUE TO KEEP BEING THE CHILDISH DAD YOU ARE TO MATTHEW HE LOVES IT!
Mo Abudu
Happy Father's Day Toks. Thank you for being such a great Dad to our kids. God bless and keep you now and always 🙏🏾 Hugs 🤗
Gbemi O-O
This was barely 24 hours after we both became parents, you sprung into action. You did everything, everything except breastfeed! Lol ( I'm sure if you could, you would). It was so interesting to see you so excited. 😀
Thank you for being an amazing father @femisoro. Zoe is very blessed. I pray God continues to give you everything you need to be the best father to our baby girl.
Happy Fathers Day. We love you ❤️
Yvonne Jegede
Happy Father's Day to these wonderful men in my life. @jegedeenaboakpe @xavierjegede_f
Adekunle Gold
My mom sent me a "Happy Father's Day" card on whatsapp this morning and it hits different like I am really someone's dad!!!! Omo! Anyways, Blessings to all the fathers out there. Be the best!
Kris Asimonye
Happy Father's Day sugar daddy!!!!!😍😍 Thank you for spoiling us all!! We love you 💋💋 @officialbovi
Adesua Etomi-Wellington
You know? I knew it. I knew the exact kind of father you would be. @bankywellington.

I knew it from the way you take such great care of me and others.
There's so much I can say about the things you do but I don't even think it's necessary. At this point, we all know how wonderful you are. My favourite thing though? My favourite thing about watching you being a father to our son is the fact that it makes so clear in my mind, the love God must-have for us as his children. My goodness! What love that is.

You are Present, you are patient, you are kind, you are not judgemental, you are SO HELPFUL and SO LOVING. I knew it, baby, I knew it. That you'd be the 'greatest dad ever liveth'.
You've handled it all like a Pro. We are so blessed to call you our own. To know that Zaiah and his siblings get to walk through life, holding your hands, gives me such peace and such joy.

We love you more than we can possibly put into words. Today, tomorrow, Always. May the writer of the Great script of our lives continue to show you the way. May he keep you. Envelope you in his love and protect you. Papa Z. My baby daddy and Zaddy. You make our lives so much more beautiful.
Stephanie Coker-Aderinokun
Happy Father's Day to our super Dad! @daderinokun

Thank you for being a present, hands-on and loving father. Our baby girls are so blessed to have a superhero as their daddy. God bless you LUMI✨🙏🏾💎🥰 Last slide says it all 😩
Ibrahim Suleiman
My BestGuy. My BabyBoy. My SonShine. My Reason.

I can't wait to listen to you ask a million questions, and all the new things I will learn because of you. But for now, thank you for giving me my most impressive title yet: Father. God bless you, Iman. @keonimansuleiman And of course, I can't be a Father without a Mother to do all of that gestation and breastfeeding madness, can I? Thank you, Sweetcheeks!
Mary Njoku
Happy Father's day Daddy @jasonnjoku. We are super lucky to have you. 🥰🥰🥰 from @njokuclanoku
Banky W
It only takes a bit of sperm to birth a child, but it takes the saving Grace, Wisdom and Guidance from God to raise one. I used to say that I was ready to be a Father before I was ready to be a husband. The whole marriage thing seemed so… impossible to get right, or to do right. And looking back now, on what is technically my first official Father's day, I'm SOOOO grateful to Father God that His plans are better, His ways are higher and His thoughts deeper than mine. He's taught me (and continues to teach me) how to be a better man, husband and Father.

I don't have it all figured out, but I'm a child of the One that does. I'm grateful for my Crown, the one and only Mrs Etomi-Wellington @adesuaetomi. I'm grateful to have the honour and privilege to be a Daddy to #BabyZ, and a Zaddy and Sugar Daddy to #MamaZ 😁😎😌🤣🤦🏽‍♂️🕺🏽🥰 – I'm grateful to my Dads…Mr George Bankole Wellington and Pastor @tonyrapu. And I wanna give a massive shoutout to all the men. May the God that created us in His image, coach us to be better reflections of Him.
Biodun Stephen
Happy Father's day to our daddy @iammrlulu… Thank you for always holding forte and been so supportive of me in particular. Keep flourishing Mon dia. Greater you
Elsie Okpocha
Happy Father's Day to you, @basketmouth. You're amazing. Thank you for all you do❤️
Jimmy Odukoya
Happy Father's Day to my Pops @pastortaiwo! No other man could have been my father !!! Thank you for your wisdom , your sacrifice, your love and your strength! I pray to be half the man you are 🙏🏾🙏🏾 Love you Pops!!
Richard Mofe Damijo
It's Father's Day
And I'm all alone
Stuck in a hotel room in Miami
And you'll think I ought to be happy
But far from it.

My phone beeps
It's my production manager
Reminding me my call time is 10am

It's Father's Day
And it's also Sunday
But it ain't easy no way
It's Father's Day
I want to swear and curse
But I hold back
It's … Father's Day
And I still can't catch a break
Father Lord what choices we make!

It's Father's Day
This one goes out to all fathers
Who cannot catch a break today
Because they grind
To be good fathers

It's … Father's Day men!
Bovi
Happy Father's Day to you! After you ate your school fees once in secondary school and found it hard to get it back on time, you vowed never to spend your school fees and that of your future children. You have kept that promise. For this singular reason, happy Father's Day to you Bovi. Instead of school fees to kill you, you will kill school fees! 😩😩
Cynthia Obi-Uchendu
Happy father's day to this amazing man. Words will never be enough ❤.
Noble Igwe
To always be there for them because really that's all that matters.. my girls
Photo Credit: @itspsd