Simple Breakfast Quesadillas
Author: Cookie and Kate Prep
Time: 15 minutes
Cook Time: 10 minutes
Total Time: 25 minutes
Yield: 1 quesadilla 1x
Category: Entree
Method: Stovetop
Cuisine: Mexican
This easy breakfast quesadilla recipe is so delicious! Serve these protein-rich quesadillas stuffed with scrambled eggs, beans and herbs for breakfast, brunch or dinner. Recipe as written yields 1 folded quesadilla; multiply as necessary. You can make 2 at once in a large skillet.
INGREDIENTS
2 eggs
Hot sauce, like Cholula
Pinch of salt
⅓ cup cooked pinto beans or black beans, rinsed and drained
2 teaspoons butter or extra-virgin olive oil
1 tablespoon chopped green onion
1 tablespoon finely chopped cilantro
1 tablespoon chopped pickled jalapeño (optional)
1 medium (8″) whole grain tortilla
½ cup (packed) grated sharp cheddar cheese
Salsa or additional hot sauce, for serving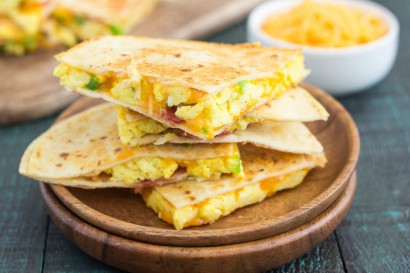 INSTRUCTIONS
To prepare the eggs: In a bowl, whisk the eggs with the hot sauce and salt until they are well blended. Add the beans and set aside.
To cook the eggs: Melt the butter in a medium-sized skillet (either well-seasoned cast iron or nonstick) over medium heat until it's bubbling. Pour in the egg mixture and cook, stirring often, until the eggs are just set, about 1 to 3 minutes. Transfer the mixture to a bowl to pause the cooking process (the eggs will finish cooking in the quesadilla). Stir in the green onion, cilantro and jalapeño.
For full story and other juicy content, Download the February/March Edition of PL Mag in PDF HERE
February/March Edition of PL Mag is AVAILABLE IN PRINT! ORDER YOUR COPIES via our social media handles or send an email to [email protected]